T-Shirt Guide
Make your mornings effortless with an updated T-shirt wardrobe. Our collection of T-shirts contains a variety of styles, fabrics and fits. Here is a guide to help you find your favorite.
Crew-Neck
Our signature Crew-Neck that has been refined for 10 years. It is made from a specially developed ultra-soft organic cotton jersey with added stretch. Features a thin neckline with invisible stitching. A versatile and very comfortable T-Shirt with a slim fit. Made from 94% organic cotton and 6% elastane.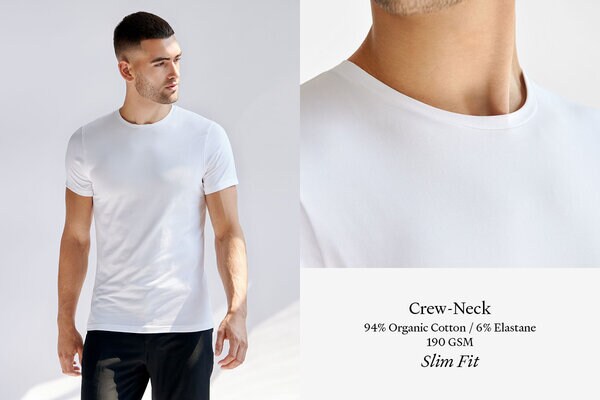 V-Neck
This design is based on our signature Crew Neck but with a V-cut neckline. A versatile and comfortable piece that can be dressed up or down. Perfect to wear on its own or as a base layer under a shirt. Made from 94% organic cotton and 6% elastane.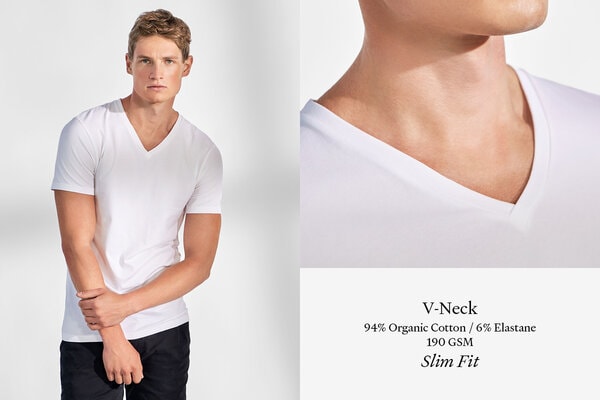 Crew-Neck regular
Made from 100% organic cotton and has a slightly wider fit than our signature Crew-Neck. The soft fabric provides a firm drape and high comfort. Details include a thick ribbed neckline. A great alternative if you like our Crew-Neck but is looking for a T-Shirt without stretch. Made from 100% organic cotton.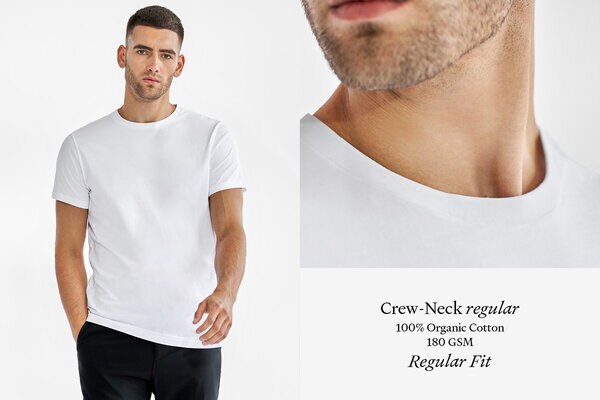 Crew-Neck relaxed
This style has a slightly looser fit and a wider neckline than our signature Crew-Neck. Features raw-cut neckline and edges that rolls up nicely after a wash or two. The perfect choice if you are loooking for a casual T-Shirt that can be worn on its own. Made from 100% organic cotton.
Crew-Neck pima
Crew-Neck pima is crafted from a luxury pima cotton that gives a lusturous soft feel against the skin for supreme comfort. It has a wider fit and a robust neckline that allows the fabric to drape elgantly against your body. If you're looking for a dressed up T-Shirt. This is the one.
Crew-Neck active
Clean-cut, like our classic Crew-Neck but in a new evolved version designed especially for physical activity. A soft functional fabric made of recycled polyester to help you get the most out of your workout, without visible logotypes to give you a clean streamlined look while exercising.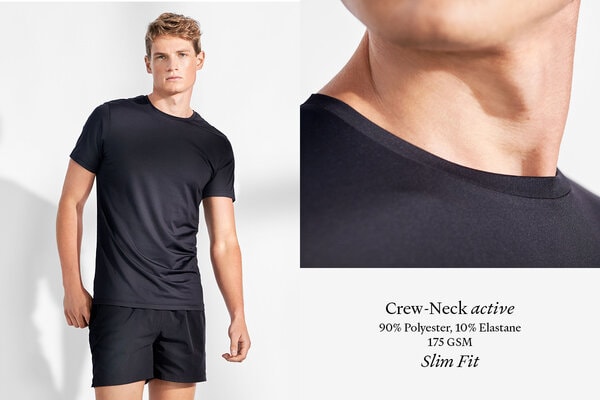 BACK